Starting to notice some drooping shoulders around the office? Sounds like it's time to plan a team outing. World War 2 and Ireland History Talks  and Exhibitions can be part of that process. Gather your corporate team together at a venue of your choosing and give you and your colleagues the chance to relax by incorporating a totally new and unique non-work related history presentation so that they can help boost the morale of your business team or just get to know one another outside the work environment.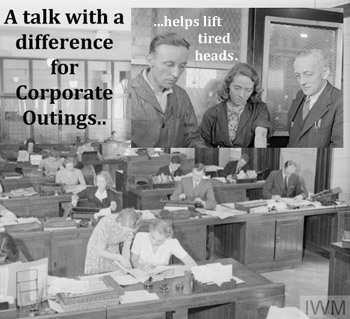 The D-Day Invasion of Normandy on June 6th 1944 for example was the greatest invasion in history and the planning, management, personnel, skills and logistics involved were staggering. It all came together and this unprecedented combined effort paid off. The D-Day landings were a great success. It just goes to demonstrate that with a proper plan, good management and logistics and above all great personnel and leadership, success can be achieved even against all the odds. Let us give you a unique insight into how it was all achieved.
In the course of our presentation also let us give you and your corporate colleagues a fascinating insight into World War 2 in general and how that conflict affected us here in Ireland. See how Ireland faired during 'The Emergency' as it was called. See uniforms, weapons and genuine artifacts from the period and learn about many Irish born people who featured prominently, either directly or indirectly, in all aspects of the conflict that was the Second World War.